Scientific Papers
K. Atsonios, A. Nesiadis, N. Detsios, K. Koutita, N. Nikolopoulos, and P. Grammelis,
"Review on dynamic process modeling of gasification based biorefineries and bio-based heat & power plants"
Fuel Processing Technology, https://doi.org/10.1016/j.fuproc.2019.106188
P. Dieringer, F. Marx, F. Alobaid, J. Ströhle, and B. Epple,
"Process Control Strategies in Chemical Looping Gasification—A Novel Process for the Production of Biofuels Allowing for Net Negative CO2 Emissions"
Applied Sciences, https://doi.org/10.3390/app10124271
Oscar Condori, Francisco García-Labiano, Luis F.de Diego, María T. Izquierdo, Alberto Abad and Juan Adánez,
"Biomass Chemical Looping Gasification for syngas production using ilmenite as oxygen carrier in a 1.5 kWth unit"
Chemical Engineering Journal, https://doi.org/10.1016/j.cej.2020.126679
Andrea Di Giuliano, Ibai Funcia, Raúl Pérez-Vega, Javier Gil and Katia Gallucci,
"Novel Application of Pretreatment and Diagnostic Method Using Dynamic Pressure Fluctuations to Resolve and Detect Issues Related to Biogenic Residue Ash in Chemical Looping Gasification"
Processes 2020, https://doi.org/10.3390/pr8091137
Andrea Di Giuliano, Stefania Lucantonio and Katia Gallucci,
"Devolatilization of residual biomasses for chemical looping gasification in fluidized beds made up of oxygen-carriers"
Energies, https://doi.org/10.3390/en14020311
Ali Hedayati, Amir H.Soleimanisalim, Carl Johan Linderholm, Tobias Mattisson, Anders Lyngfelt,
"Experimental Evaluation of Manganese Ores for Chemical Looping Conversion of Synthetic Biomass Volatiles in a 300 W Reactor System"
Journal of Environmental Chemical Engineering, https://doi.org/10.1016/j.jece.2021.105112
Falko Marx, , Paul Dieringer, Jochen Ströhle, and Bernd Epple, 
"Design of a 1 MWth Pilot Plant for Chemical Looping Gasification of Biogenic Residues",
Energies, https://doi.org/10.3390/en14092581
Lucantonio, S.; Di Giuliano, A.; Gallucci, K.
"Influences of the Pretreatments of Residual Biomass on Gasification Processes Devolatilizations Study in a Fluidized Bed"
Appl. Sci., https://doi.org/10.3390/app11125722
Oscar Condori, Francisco García-Labiano, Luis F.de Diego, María T. Izquierdo, Alberto Abad and Juan Adánez,
"Biomass Chemical Looping Gasification for syngas production using LD slag as oxygen carrier in a 1.5 kWth unit"
Fuel Processing Technology, https://doi.org/10.1016/j.fuproc.2021.106963
Andrea Di Giuliano, Stefania Lucantonio, Barbara Malsegna, Katia Gallucci,
"Pretreated residual biomasses in fluidized beds for chemical looping Gasification: Experimental devolatilizations and characterization of ashes behavior"
Bioresource Technology, https://doi.org/10.1016/j.biortech.2021.126514
Andrea Di Giuliano, Marta  Gallucci, Barbar Malsegna, Stefani Lucantonio, Katia Gallucci,
"Pretreated Residual Biomasses in Fluidized Beds for Chemical Looping Gasification – Analysis of Devolatilization Data by Statistical Tools"
Bioresource Technology Reports, https://doi.org/10.1016/j.biteb.2021.100926
Ali Hedayati, Amir H.Soleimanisalim, Tobias Mattisson, Anders Lyngfelt,
"Thermochemical conversion of biomass volatiles via chemical looping: Comparison of ilmenite and steel converter waste materials as oxygen carriers"
Fuel, https://doi.org/10.1016/j.fuel.2021.122638
Oscar Condori, Luis Francisco de Diego, Francisco Garcia-Labiano, María Teresa Izquierdo, Alberto Abad, and Juan Adánez,
"Syngas Production in a 1.5 kWth Biomass Chemical Looping Gasification Unit Using Fe and Mn Ores as the Oxygen Carrier "
Energy Fuels, https://doi.org/10.1021/acs.energyfuels.1c01878

F. Lebendig, I. Funcia, R. Pérez-Vega, M. Müller,
"Investigations on the Effect of Pre-Treatment of Wheat Straw on Ash-Related Issues in Chemical Looping Gasification (CLG) in Comparison with Woody Biomass"
Energies, https://doi.org/10.3390/en15093422
Falko Marx, Paul Dieringer, Jochen Ströhle, Bernd Epple
"Solid flux measurement in dual fluidized bed processes based on solid samples"
Fuel, https://doi.org/10.1016/j.fuel.2023.127589
Oscar Condori, Alberto Abad , María T. Izquierdo, Luis F. de Diego, Francisco García-Labiano, Juan Adanez
"Assessment of the chemical looping gasification of wheat straw pellets at the 20 kWth scale"
Fuel, https://doi.org/10.1016/j.fuel.2023.128059
Victor Purnomo, Duygu Yilmaz, Henrik Leion, Tobias Mattisson,
"Study of defluidization of iron- and manganese-based oxygen carriers under highly reducing conditions in a lab-scale fluidized-bed batch reactor"
Fuel Processing Technology, https://doi.org/10.1016/j.fuproc.2021.106874
Victor Purnomo, Daofeng Mei, Amir Soleimani Salim, Tobias Mattisson, Henrik Leion,
"Effect of the Mass Conversion Degree of an Oxygen Carrier on Char Conversion and Its Implication for Chemical Looping Gasification"
Energy Fuels, https://doi.org/10.1021/acs.energyfuels.2c00944
Andrea Di Giuliano, Barbara Malsegna, Stefania Lucantonio, Katia Gallucci,
"Experimental assessments of pyrolytic and fluid-dynamic interactions between pretreated residual biomasses and fluidized beds made up of oxygen carriers for chemical looping gasification"
Advanced Powder Technology, https://doi.org/10.1016/j.apt.2023.104010
P. Dieringer, F. Marx, B. Michel, J. Ströhle, and B. Epple,
"Design and Control Concept of a 1 MWth Chemical Looping Gasifier Allowing for Efficient Autothermal Syngas Production" 
International Journal of Greenhouse Gas Control, https://doi.org/10.1016/j.ijggc.2023.103929
F. Lebendig, M. Müller,
"Effect of pre-treatment of herbaceous feedstocks on behavior of inorganic constituents under chemical looping gasification (CLG) conditions"
Green Chemistry, https://doi.org/10.1039/D2GC02906E
Ivan Gogolev, Amir H. Soleimanisalim, Daofeng Mei, and Anders Lyngfelt,
"Effects of Temperature, Operation Mode, and Steam Concentration on Alkali Release in Chemical Looping Conversion of Biomass – Experimental Investigation in a 10 kWth Pilot"
Energy Fuels, https://doi.org/10.1021/acs.energyfuels.1c04353
P. Dieringer, F. Marx, J. Ströhle, and B. Epple,
"System Hydrodynamics of a 1 MWth Dual Circulating Fluidized Bed Chemical Looping Gasifier"
Energies, https://doi.org/10.3390/en16155630
Valentina, Gogulancea, Angela Rolfe, Mohammad Jaffar, Caterina Brandoni, Konstantinos Atsonios, Nikolaos Detsios, Paul Dieringer, Ye Huang,
"Technoeconomic and Environmental Assessment of Biomass Chemical Looping Gasification for Advanced Biofuel Production"
International Journal of Energy Research, https://doi.org/10.1155/2023/6101270
---
Conference/Workshop Presentations
K. Atsonios "Gasification technologies for the production of liquid and gaseous biofuels and their contribution to sustainable transport.", Biomass Day, Athens
Jochen Ströhle et al. "The CLARA project – CLG for the sustainable production of biofuels", 6th Chemical Looping Conference Zaragoza
Paul Dieringer,Falko Marx , Jochen Ströhle, Bernd Epple, "Design and Control Concept of a 1 MWth Chemical Looping Gasifier Allowing for Efficient Autothermal Syngas Production", 6th Chemical Looping Conference Zaragoza
Falko Marx, Paul Dieringer, Jochen Ströhle, Bernd Epple, "Solid Flux Measurement in Chemical Looping Gasification Based on Solid Samples", Fluidized Bed Conference
N. Gürer, F. Radosits, A. Ajanovic, R. Haas, "Case study: the economic and environmental assessment of selected biomass-to-Fischer Tropsch (FT) diesel chains in the EU", 17th Energy Innovation Symposium, Graz,
Amir H. Soleimanisalim, Fredrik Hildor, Daofeng Mei, Ivan Gogolev, Tobias Mattisson "Selection of oxygen carrier for chemical looping gasification of biomass", The 24th International Conference on Fluidized Bed Conversion.
Amir H. Soleimanisalim, Carl Johan Linderholm, Oscar Condori, Iván Samprón, Luis F. de Diego, Francisco García-Labiano, Alberto Abad, Juan Adánez and Tobias Mattison "Investigating the chemical looping gasification of biomass for syngas production during continuous operation in 1.5 kWth to 100 kWth units", The 2nd International Conference on Negative CO2 Emissions, Gothenburg
Andrea Di Giuliano, Stefania Lucantonio, Barbara Malsegna, Katia Gallucci"A compendium of behavioral characterizations of biomasses and oxygen carriers in the CLARA (Chemical Looping gAsification foR sustAainable production of biofuels) project", GRICU 2022: Centralità dell' Ingegneria Chimica in un Mondo che cambia, Ischia, (Italy)
B. Malsegna, S. Lucantonio, A. Di Guiliano, K. Gallucci "Preliminary experimental assessments of interactions between Pretreated Residual Biomass and Fluidized Beds made up of Oxygen Carries for Chemical Looping Gasification", International Conference on Biomass – IConBM2022, Naples, Italy.
F. Lebendig, M. Müller, "Untersuchung von vorbehandeltem Rapsstroh in Bezug auf aschebedingte Probleme unter Vergasungsbedingungen", 30. Deutscher Flammentag – für nachhaltige Verbrennung
F. Lebendig, M. Müller, "Influence of Pre-Treatment of Herbaceous Biomass Feedstocks on Ash-Related Issues in Chemical Looping Gasification", EUBCE2021
Javier Gil, "Novel concept for the pre-treatment of cereal straw", European Pellet Conference 2020, 04/03/2020
Francisco Garcia-Labiano, "Biomass Chemical Looping Gasification (BCGL) Using Ilmenite as Oxygen Carrier", 6th CEBC, Graz, 22/01/2020
Paul Dieringer, "Chemical Looping Gasification – A Novel Process for the Sustainable Production of Biofuels", 6th CEBC, Graz, 22/01/2020
Falko Marx, "The CLARA project: Chemical Looping Gasification for the Production of Biofuels", 8th High Temperature Solid Looping Cycles Network Meeting, Geleen, 20/01/2020
Javier Gil, "Improving ash melting behavior of challenging biomass fuels", European Biomass to Power 2019, 07/11/2019
Jochen Ströhle, "CLARA – Chemical Looping Gasification for Sustainable Production of Biofuels", H2020 Contractor's Workshop Biofuel projects, Brussels, 23/05/2019
Paul Dieringer, "CLARA – Chemical Looping Gasification for Sustainable Production of Biofuels", 2nd German Doctoral Colloquium Bioenergy, Nürnberg, 30/09/2019
J. Adanez, F. Garcia Labiano, "CSIC expertise on Biomass Chemical Looping Gasification (BCLG)", Chemical Looping with biomass. Role of ash chemistry, 25/05/2021
F. Garcia Labiano, "Tecnologías de captura de CO2: Combustión por Chemical Looping", Cursos Extraordinarios Universidad de Zaragoza. Tecnologías CAUC contra el cambio climático: captura, almacenamiento y usos de CO2, 30/06/2021
---
Posters
eEUBCE2020, 06. July 2020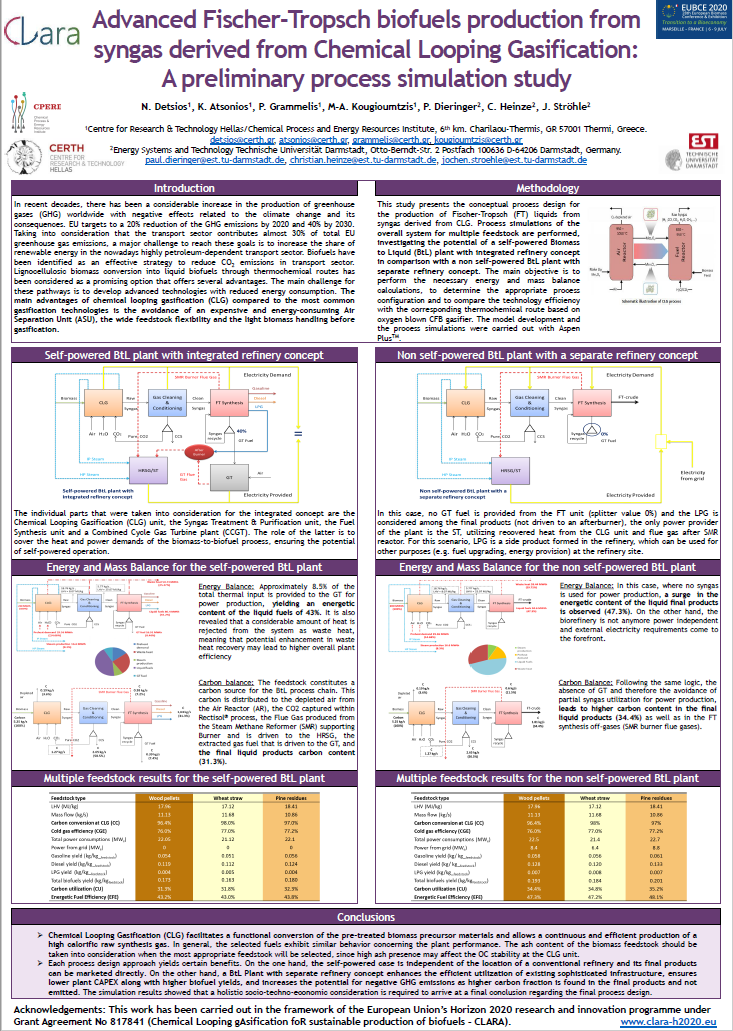 Bio4Fuels, Gothenburg, 04. November 2019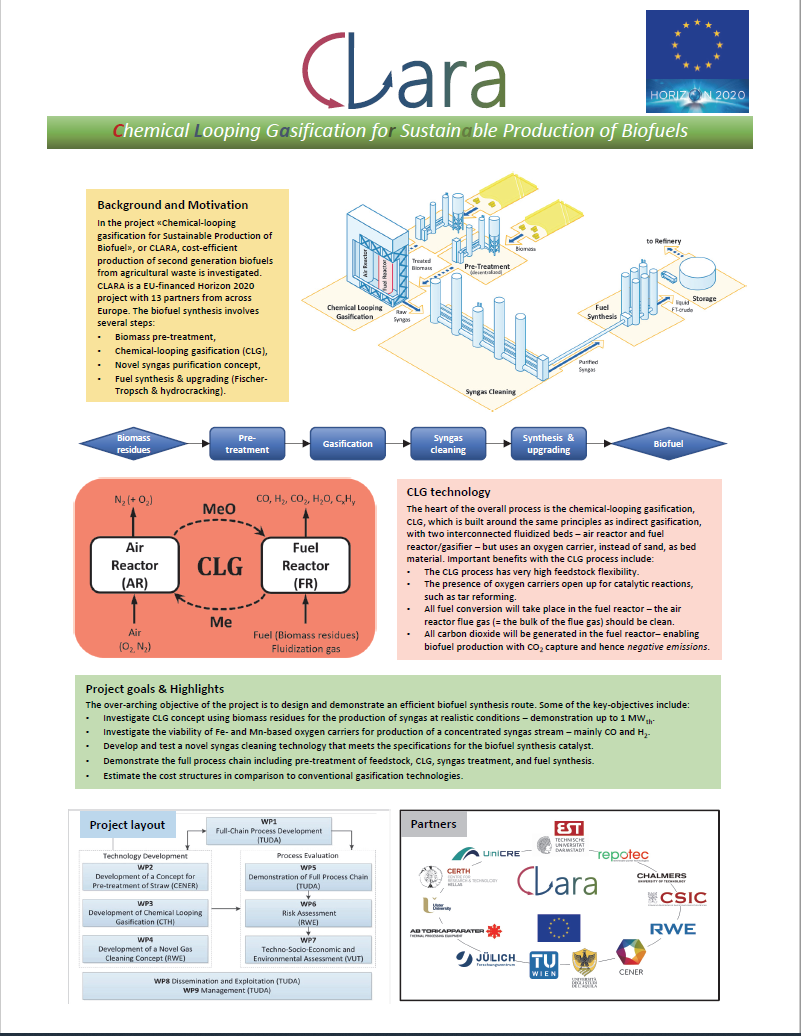 EUBCE, Lisbon, 29. May 2019
Paving the Way Towards Clean Energy and Fuels in Europe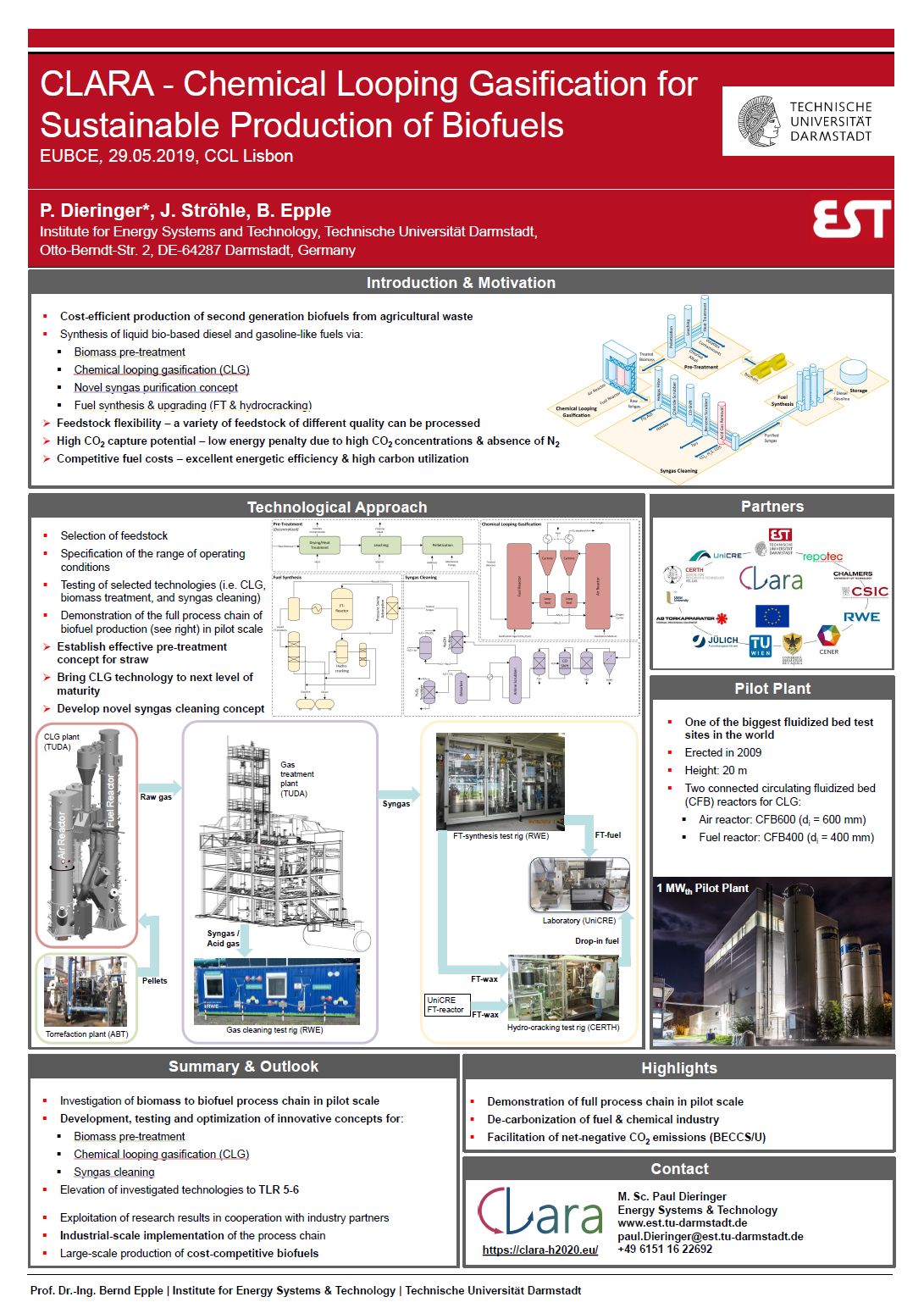 ---